Logistics
Warehousing & Shipping
Our mementos, keepsakes and souvenirs are shipped to Germany, Austria, Italy, France, Finland, the US, Canada... and even all the way to Australia.

In addition to offering a large selection of souvenir items, Stöckelmaier also ships its products to its customers all over the world. For your convenience as an international customer, you can decide whether we ship your items to you directly or to a freight forwarder's address for shipping in a consolidated container. We will work to keep delivery times as short as possible, minimize freight costs, maximize coordination and optimize the shipping process.

We ship our products with reliable partners like GLS, DHL, the German postal system and freight forwarders. On-time delivery is important to us; we are also more than willing to accommodate single items and pallet shipping. Our customers can select the shipping service of their choice or offer alternative suggestions.
Our focus: we
pay import duties ourselves
on goods we receive and offer
direct delivery options.
If necessary, we organize shipping internally using our modern delivery fleet.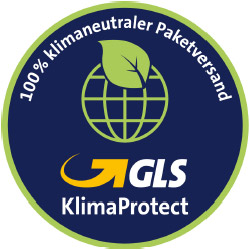 We do our part to
reduce CO2 emissions
and improve our own environmental footprint by sending all of our packages within Germany via
GLS KlimaProtect
for 100% carbon-neutral shipping.
That means we're playing a valuable, active role in
protecting the climate
and in making parcel logistics sustainable and able to meet the demands of the future. Thank you so much for helping us make that possible!